Join Green Genie & Susan G. Komen Race for the Cure!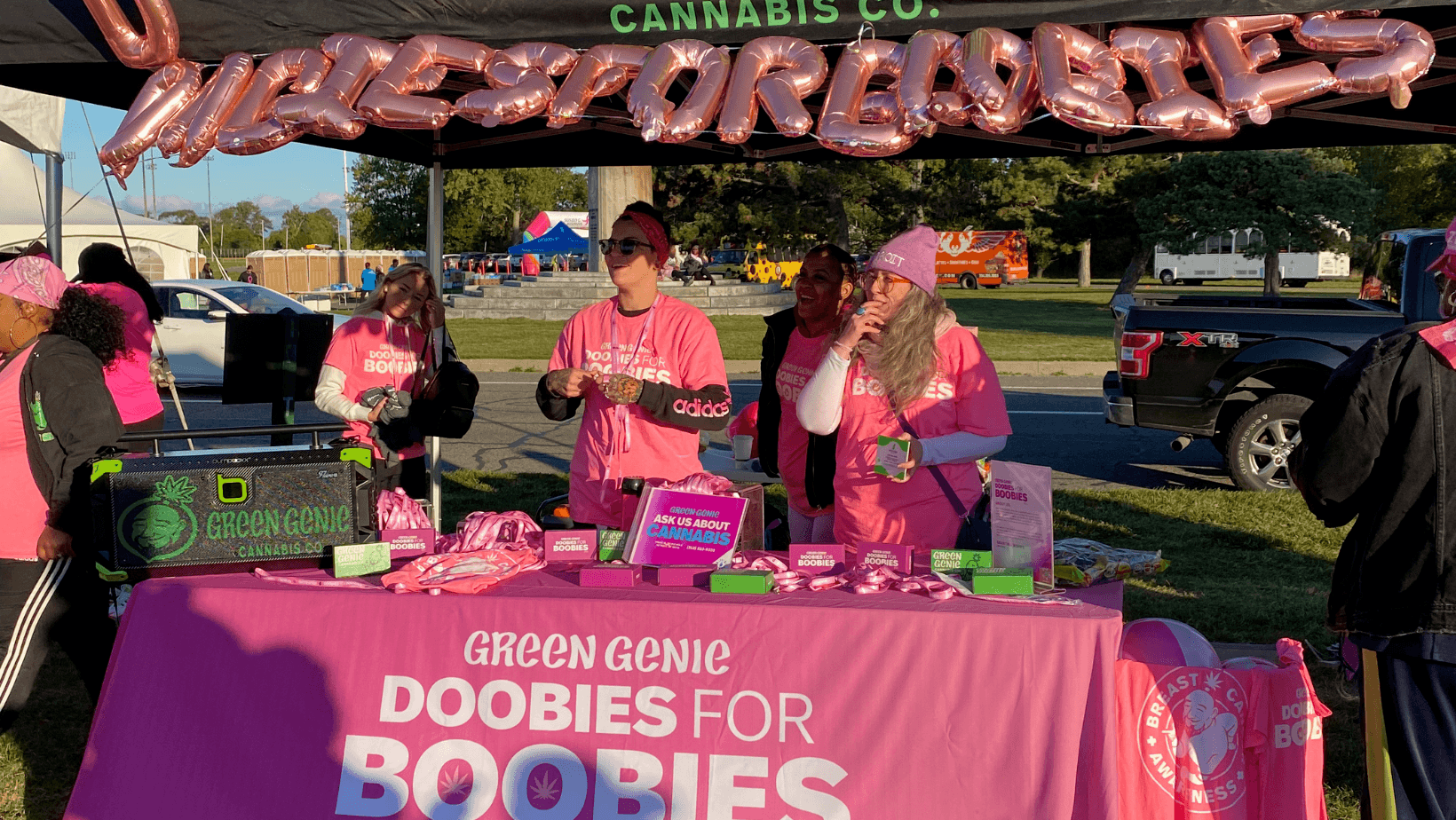 Event Date: Sunday, October 8, 2023
Event Time: 8:00 AM
Location: Belle Isle, Detroit, Michigan
Green Genie Cannabis Co proudly presents "Doobies for Boobies," a heartfelt and impactful event dedicated to supporting breast cancer awareness and research. Since partnering with Susan G. Komen in 2020, we've been on an inspiring journey to combine cannabis advocacy with a powerful commitment to making a positive impact on the lives of those affected by breast cancer.
Our Mission
At Green Genie, we firmly believe in the profound healing power of community and compassion. "Doobies for Boobies" is not just an event; it's a movement. Our mission is clear: to raise awareness, funds, and spirits while sharing knowledge about the potential benefits of cannabis in managing cancer-related symptoms. By fostering a sense of unity and support, we aim to empower individuals on their journey to wellness.
Historical Success
Over the years, "Doobies for Boobies" has grown into a renowned annual event, deeply embedded in the hearts of our community. Together, we've raised thousands of dollars for breast cancer research and support organizations. It's not just about the numbers; it's about the lives we touch and the hope we inspire. Every year, we've witnessed the incredible impact our collective efforts have on those facing the challenges of breast cancer.
Partnership with Susan G. Komen Race for the Cure
Green Genie Cannabis Co is proud to announce our partnership with the Susan G. Komen Race for the Cure. Together, we're working hand in hand to amplify our impact. By joining forces with one of the world's leading breast cancer organizations, we're advancing our shared mission of early detection, treatment, and support for those affected by breast cancer.

Event Highlights:
Education: Join us for enlightening and interactive sessions on the role of cannabis in managing cancer symptoms. Led by industry experts, these seminars provide valuable insights and the latest research in the field.
Live Music and Entertainment: Immerse yourself in the vibrant rhythms of local artists and bands throughout the day. Music has the power to heal, and we're bringing the best to uplift your spirits.
Vendor Booths: Explore a diverse range of cannabis-related products, services, and information. Connect with like-minded individuals and discover the latest innovations in the cannabis industry.
Food and Beverage: Enjoy the delicious offerings from our local food vendors. Treat your taste buds to a variety of delights while you enjoy the event.
Raffles: Get ready for excitement! Participate in our raffle for a chance to win fantastic prizes, All proceeds go to support breast cancer charities and initiatives.
Join Us in Making a Difference
"Doobies for Boobies" is not just a call to action; it's an invitation to be part of something meaningful. It's an opportunity to stand up and show your support for breast cancer awareness, research, and the brave individuals who have battled this disease. Together, we can make a difference. Together, we can provide hope.
Stay tuned for updates, detailed event schedules, and ticket information as we get closer to the event date. For the latest news and announcements, follow us on Instagram, Twitter, TikTok, or WeedMaps. If you have any questions or would like to get involved as a volunteer or sponsor, please don't hesitate to contact us.
Let's roll up our sleeves and doobies for a cause that truly matters. We can't wait to see you there, as we join hands and hearts in the fight against breast cancer.
Weed Shop, Medical Marijuana & Cannabis Dispensary

Livonia, MI, Redford, MI & Southfield, MI
Cannabis Delivery & Medical Marijuana in Redford, MI
Marijuana Delivery

∴

Marijuana Dispensary

∴

Cannabis Dispensary